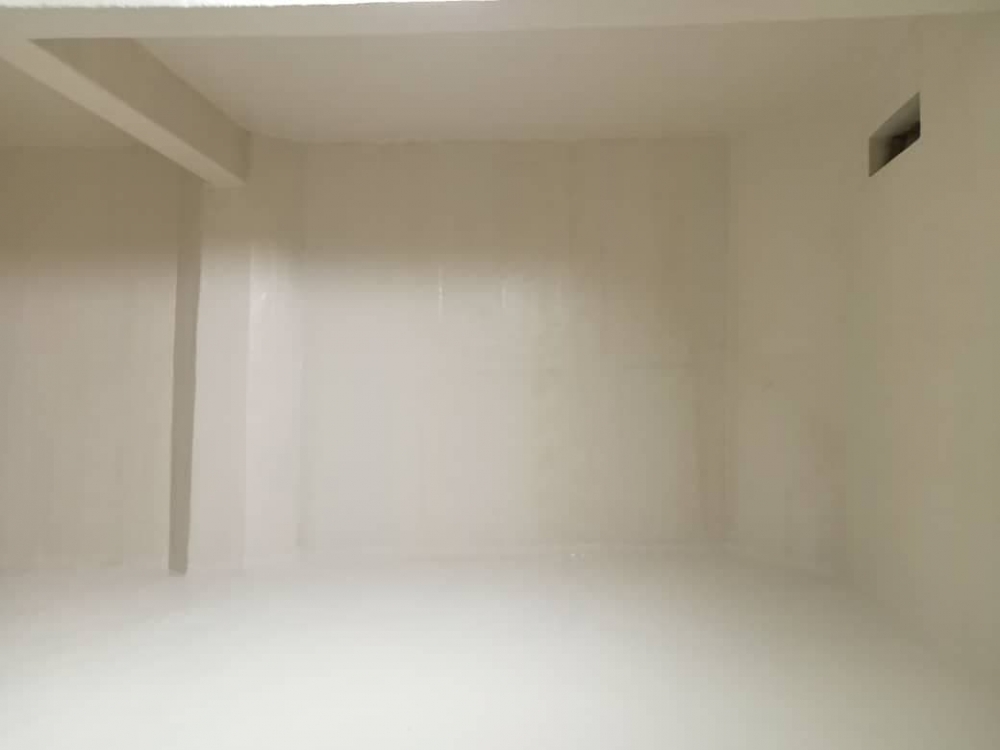 FRP LAMINATION - WASTEWATER CONCRETE TANK
WATER PROOFING AND WASTEWATER CONCRETE TANK LAMINATION
SKU :
LAMINATE 3
Fiberglass can be laminated onto different substrates to provide strength, chemical resistance, and waterproofing benefits. At Mui Fatt, we offer on-site services or delivery to factory for lamination of steel structures, concrete, swimming pools, or waterproofing on rooftops or buildings.
A very conventional way to build a pool to avoid water leaking is to undergo fiberglass lamination to prevent water from leaking onto concrete or other materials. Fiberglass is very flexible and can do a good job following the curves and shape of a concrete tank. The surface with tissue and rich resin gelcoat make fiberglass lamination a good option for the safety of swimming pool users. Moreover, for most water slide and pool applications, fiberglass has already proven to be a better material compared to steel since swimming pools often need to be cleaned with chlorine water.
Another application is a wastewater underground tank or closed chamber that requires corrosion protection and waterproofing to concrete tanks. Fiberglass can be laminated onto the concrete wall to provide these benefits.
The next application is to laminate fiberglass onto steel structures. Comparing to epoxy coating, fiberglass lamination or fiberglass lining can provide a good corrosion barrier, and so it can extend the integrity of the steel structure from corrosion. A very good example is the fertilizer plant equipment, which can be coated with fiberglass to extend the shelf life of the equipment. Support structures for platforms like I-beams, C-channels, or square hollows can also be laminated, and then installed again on-site. In comparison to epoxy coating, fiberglass has been reinforced with glass with unsaturated polyester resin and provides strength to scratches and impact than epoxy coating.
Lastly, fiberglass lamination can be done for the flooring of rooftops or toilet flooring. This is to provide a waterproofing layer to the concrete. After the concrete wall is casted, fiberglass lamination can be applied, and then the concrete tank can be used as a water tank inner layer.
There are more applications of fiberglass lamination or fiberglass lining. Kindly contact us for more details.

CONCRETE LAMINATION :
Underground Wastewater Plant/Tank
Concrete Swimming Pool
Concrete Fish Pond for houses
Concrete Rooftops

Fiberglass Lamination FRP lamination - Concrete
Resin Option : Orthophatlic GP - for normal water application ; Isophatalic ISO or Vinyl Ester VE for chemical protection
Glass Configuration : 2 layers of Chopped Strand Mat E Glass
Finishing : 1 layer of Surface Veil with Resin Rich Gelcoat
Color : RAL color to customer option or without Pigment resin color
Rate base on Surface Area of the application
Surface preparation : Concrete surfaces need to be properly prepared before lamination. It's important to let the concrete dry out completely before starting the lamination process.
Warranty : 2 year warranty
Other Remark :
1) The site needs to have power supply and scaffolding equipment ready for use
2) The site needs to have a designated area ready for lamination work to be done

For other enquiries please contact us via WhatsApp - 0126257219
Other products details : https://linktr.ee/Ahboy8989
Related Products