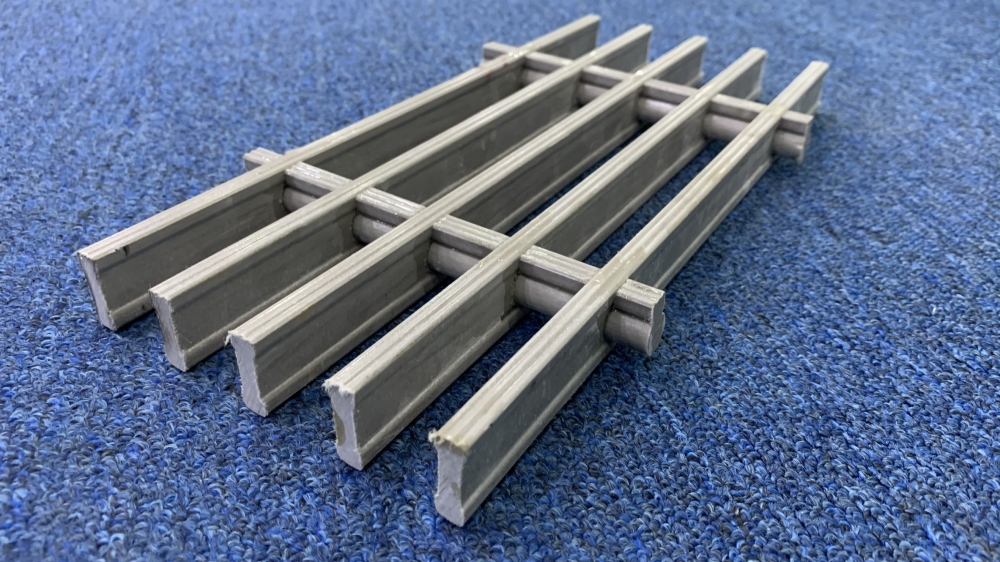 GTSL - 25(67)
Trugrid Pultruded grating system is made of Pultruded process into bearing bar profile which later made in platform.
the features of Trugrid Pultruded Grating is Light weight, rust free, corrosion resistent, chemical resistant, non-electri conductive. easy to install and cut into different size. commonly use in malaysia construction site , waste water treament plant, chemical industry, oil & gas, off shore application.

Sistem parut Trugrid Pultruded dibuat dari proses Pultruded menjadi profil bar galas yang kemudian dibuat dalam platform.ciri-ciri Trugrid Pultruded Grating adalah Ringan, bebas karat, tahan kakisan, tahan kimia, konduktif bukan elektrik. senang dipasang dan dipotong dengan saiz yang berbeza biasa digunakan di tapak pembinaan malaysia, loji khasiat air sisa, industri kimia, minyak & gas, aplikasi lepas pantai.
SKU :
GTSL - 25(67)
Trugrid Fiberglass FRP/GRP Pulrtrusion Grating manufacturer by Hexagon MF Composite Sdn Bhd trade mark by Hexagon Composite Sdn Bhd.
HMF is pultrusion manufacturer in structural profile and other sub product such as pultrduded grating. the features of Trugrid Pultruded Grating is Light weight, rust free, corrosion resistent, chemical resistant, non-electri conductive. easy to install and cut into different size. commonly use in malaysia construction site , waste water treament plant, chemical industry, oil & gas, off shore application.

Product : Fiberglass Pultruded Grating
Model : GTTW - 50(60)
Brand : TRUGRID
Standard Panel : 4ft x 12 ft or 1220mm x 3660mm
Mesh Size : [ ]
Grating Height : 25mm
Grating Loading :
Color: Grey , yellow Green and other option are available
Resin : Orthophatalic, Isophatlic & Vinyl Ester (VE)
Application : oil & gas platform, construction, electrical, poultry & agricultural.
Features: rust free, chemical resistance, non-conductive,
Fire retardant: optional please email for more details

Cut To size option are available, please call us for more details.
We are also looking forward for authorized dealer in Malaysia region to distributed "Made in Malaysia" molded grating. Please contact us for more details
For more product details in term of installation & usage please free to contact us.
Product chemical resistant chart also available upon enquiry.
We are also looking for partnership & student internship to learn up manufacturing of fiberglass product
Related Products