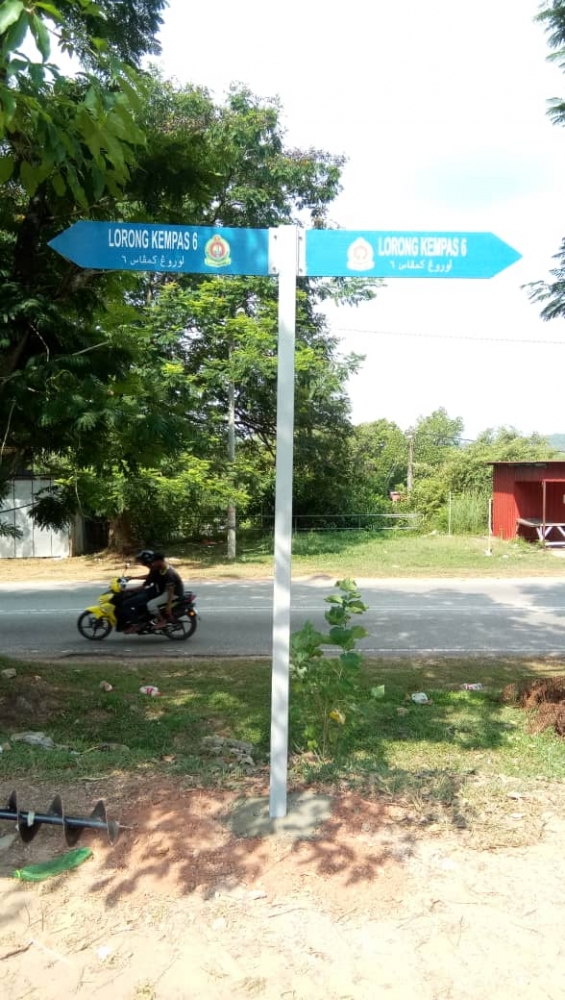 FRP PapanTanda Signage Board
Fiberglass Signage is an alternative to conventional Mild Steel Signage. A signage consist of two part pole and signboard. The advantage of Fiberglass is durable, light weight, non-rusting and outdoor compatible. In area that have high theft rate of steel issue, FRP can help reduce vandalism since there is no re-sell value of a fiberglass material. We Mui Fatt are manufacturing fiberglass material for signage application. The fiberglass signboard are also suitable for pasting sticker and available in different colors, sizes, shape and thickness. For Fiberglass Pole, we made from Pultrusion process and the shape we have is Square Hollow or Round Tube. As for installation methods, do contact us for more details of this products.

Papan Tanda Gentian Kaca ialah alternatif kepada Papan Tanda Keluli Ringan konvensional. Papan tanda terdiri daripada dua bahagian tiang dan papan tanda. Kelebihan Fiberglass adalah tahan lasak, ringan, tidak berkarat dan serasi di luar. Di kawasan yang mempunyai kadar kecurian tinggi isu keluli, FRP boleh membantu mengurangkan vandalisme kerana tiada nilai jualan semula bahan gentian kaca. Kami Mui Fatt mengeluarkan bahan gentian kaca untuk aplikasi papan tanda. Papan tanda gentian kaca juga sesuai untuk menampal pelekat dan boleh didapati dalam pelbagai warna, saiz, bentuk dan ketebalan. Untuk Tiang Fiberglass, kami buat daripada proses Pultrusion dan bentuk yang kami ada ialah Square Hollow atau Round Tube. Bagi kaedah pemasangan, hubungi kami untuk butiran lanjut tentang produk ini.

SKU :
Signage
FRP Papantanda / Fiberglass Signboard
Consist of FRP signboard & FRP Pole
FRP pole :- Square Hollow Section 50mm x 50mm/ 75x75mm 6mmT
FRP pole :- Roundtube 38mmDia , 50mmDia x 6mmT
FRP pole :- Lenght : 2500-3000mm with 500-600 embeded underconcrete
FRP pole :- Color available in Grey , Yellow, Black , White

FRP Signboard
FRP FlatSheet :
Size : 6" width x 1000mm x 6mmT

Stickers excluded

Call us for more details & pricing
---
FRP Papantanda / Papan Tanda Gentian Kaca
Terdiri daripada papan tanda FRP & Tiang FRP
Tiang FRP :- Bahagian Berongga Persegi 50mm x 50mm/ 75x75mm 6mmT
Tiang FRP :- Tiub Bulat 38mmDia , 50mmDia x 6mmT
Tiang FRP :- Panjang : 2500-3000mm dengan konkrit bawah tertanam 500-600
Tiang FRP :- Warna tersedia dalam Kelabu, Kuning, Hitam, Putih
Papan Tanda FRP
FRP Flatsheet :
Saiz : 6" lebar x 1000mm x 6mmT
Hubungi kami untuk butiran lanjut & harga
Related Products