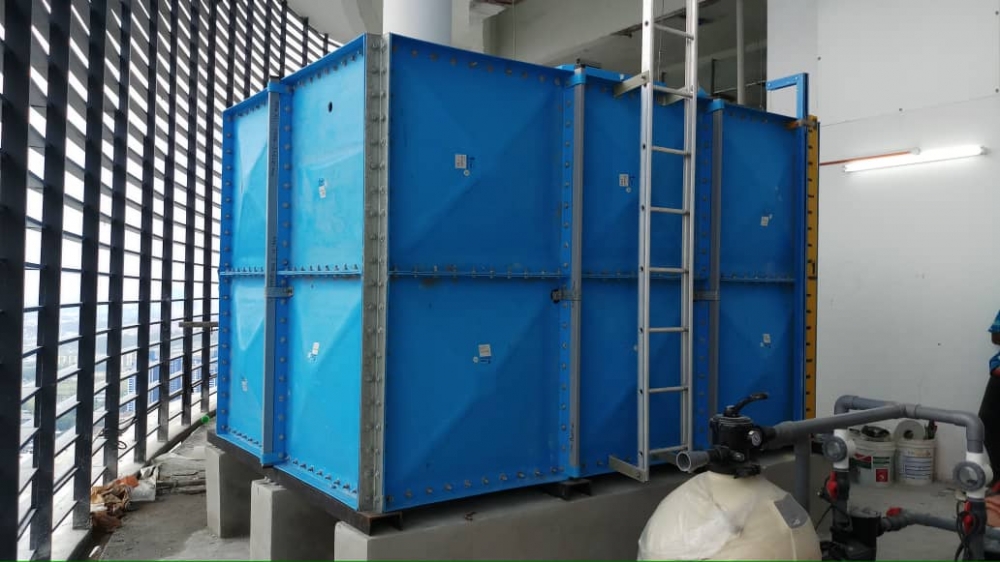 8000L GRP FRP Sectional Panel Tank Two Meter Height 2m x 2m x2m
The YT Fiberglass Industries Sdn Bhd Section Panel Tank manufactured the FRP/GRP Panels, using contact moulding process to ensure that panels are completely cured, dimensionally accurate uniformly strong, durability & consistent under all weather conditions. Benefits of storing portable water in FRP/GRP tanks have now been recognised and widely used in the residential, commercial, industrial and the public works sector is an essential resources. It also can further serves as rain water harvesting tank or cooling tower water tank. Therefore, storage of clean water for longer durability periods remain top priority.
YT GRP/FRP Sectional Panel Tanks are certified under Research Institute of Malaysia ( SIRIM ) according to SS 245:1995 as spefies requirement for Glass Reinforced Polyester Section Water tank, called FRP which also know as FRP Sectional Water Tank.

YT GRP/FRP panel manufactured from combination of (1) unsaturated polyester resin with reinforced with (2) E-Class Chopped Stranded Mat and (3) E-Glass Woven Roving. All material comply to BS 3532, BS 3496, BS3479. Under the scheme of supervision and quality control specified by SIRIM, YT GRP/FRP Sectional Panel comply to :- (i) Confirmed to be non-toxic, odourless and is save for portable water storage designated for human comsuption; (ii) Modular that you can create the required capacity freely depending on the volume of water required and space available; (iii) Assembled by connecting independent angular panel with bolts and reinforced by external & internal bracing; (iv) several times lighter than steel panel (v) Vigorously designed to withstand both hydrostatic and dynamic water pressure exceeds six times it rated capacity; (iv) rust free, a factor which greatly improves sanitation, composite plastics which non-corrodable properties greatly extend the life span of the tank and minimise maintenance.
YT FRP/GRP section panel provide extensive guarantee on the tank.
Concrete plinth support are to be provide and ready by customer at site. The width of concrete plinth 300mm x 500mm Height. Steel skid Base is supply by YT Fiberglass.

SKU :
8000L GRP FRP Sectional Panel Tank Two Meter Heigh
Product : FRP/GRP Sectional Panel Water Tank
Manufacturer/Brand : YT Fiberglass Sdn Bhd
Product Certification : GLASS-FIBRE REINFORCED POLYESTER (GRP) SECTIONAL WATER TANKS - Malaysia Standard MS 1390:2010
Certification Body : SIRM QAS International Sdn bhd
Other Certification Body : SPAN Suruhan Jaya Perkhidmatan Air Neagara
Brand : YT
SPAN Product : Storage Cistern / Tank - FRP water tank - Sectional
Sectional Panel tank size (height) : available in 1.0 meter, 1.5 meter, 2 meter, 2.5 meter , 3.0 meter , 3.5 meter, and 4.0 meter.
SIde Panels : 1.0 meter x 1.0 meter or 1.5m meter x 1.0 meter
Scope of Supply : Supply, Deliver & Install of FRP/FRP sectional Panel tank (installation by approved sub-contractor.)
Other accessories :
i) Mild Steel Skid Base & Air vent;
ii) Internal & external Aluminum Ladder;
iii)FRP level Indication

Excluding Scope of Supply :
i) Dismantling of existing tank,
ii) Security of goods at site
iii) Unloading and hoisting of goods at site
iv) buyer to supply sufficient water for leakage test after installation
v) To dispose all deris & rubbish, including the material
vi) pipe work, valve, ball valve
vii) Concrete plint at site

For enquiry, kindly share us necessary information to propose the right size and capacity.
1) expected capacity of water storage . ( eg. 30m3 )
2) maximum height if underground limited height
3) allocation of area.

call us or whatsapp us at 012-625 7219 or email us your projects to quote.


Related Products