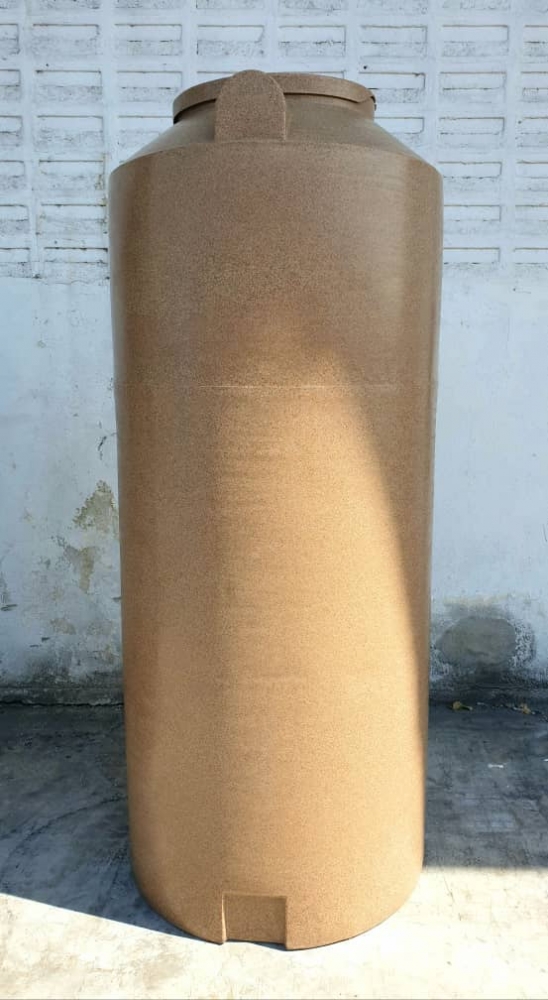 CT - 200 - S.STONE
Mui Fatt's P.E. Tank is made from polyethylene plastics HDPE water tank are manufacture by rotomolding process. PE Tank is certified & complied to Product Certification by SIRIM (QAS) International in accordance with Malaysian Standard MS 1225-1:2014 Polyethylene (PE) Tanks for cold water storage and with SPAN certification. PE Tank are commonly use for water storing of domestic household; agriculture water farming or general water storing application. HDPE also can be use to storage low grade chemical solvent. Some other application of water tank are Rain Water Harvesting system. In comparison to other material of water tank, PE Tank are more light weight, rust free and safe for daily usage and much more cost effective solution. Please contact us for more products details.

PE TANK jenama keluaran Mui Fatt Industries S/b berlokasi di Klang , selangor adalah diperbuat daripada bahan mentah plastik Yang dikenali sebagai "POLIETILENA" ataupun nama singkatnya "HDPE". Ianya diperbuat melalui proses pembakaran bahan mentah yang ditempatkan pada acuan besi atau dikenali sebagai "ROTOMOULDING" (Acuan putaran). Proses pembuatan PE TANK ini adalah mengikut piawaian malaysia iaitu MS 1225-1:2014 yang diiktirafkan Oleh pihak SIRIM QAS sejak 25 tahun lalu Dan juga tersenarai dilaman SPAN (Suruhanjaya Perkhidmatan Air Negara ) sebagai bahan Yang diluluskan penggunaan untuk tujuan simpanan air. PE TANK adalah sesuai untuk simpanan air am seperti sektor pertanian, perindustrian , komersial Dan sesuai untuk menyimpan pelarut kimia kelas rendah. PE TANK juga boleh digunakan untuk tujuan penuaian air hujan. Sila hubungi kami ditalian untuk matlumat selanjutnya
SKU :
CT - 200 - S.STONE
Model :
Product : POLYETHYLENE (PE) TANKS FOR COLD WATER STORAGE
Standard : Malaysia Standard 1225-1:2014 – SIRIM QAS International
Brand : PE Tank
Type :
Effective Capacity : Gallon / Liter
Nominal Capacity : Gallon / Liter
Dimension :
Top (D1) : () mm / () inch
Base (D2) : () mm / () inch
Height (H1): mm / inch
Height (H2): mm / inch
Application : Household water storage tank, agriculture water storage tank, small industries water storage tank, rain collection tank, or other water storing tank.
Features : stackable, light weight, durable, rust free.
Certification : SIRIM QAS International Product Certification License with SPAN Suruhanjaya Perkhidmatan Air Negara, Malaysia product listing for water supply.
Product warranty : 8 years outdoor & 10 year indoor subject to term & condition.
Remark 220 Gallon-UK= 1000 Liter = 1m3
D1 : Dimension of tank cover
D2 : Dimension of tank base
H1 : Height of top Tank
H2 : Height to top Cover
All dimension are rounded-off to nearest 10mm or 0.5inch
Dimension given above are for space required for installation purpose only
Please refer to us for latest drawing.
---
Model:
Produk: Tangki POLYETHYLENE (PE) UNTUK PENYIMPANAN AIR DINGIN
Standard: Standard Malaysia 1225-1: 2014 - SIRIM QAS International
Jenama: PE Tank
Jenis:
Kapasiti Berkesan (Gelen): Gelen / Liter
Kapasiti Nominal (Gelen): Gelen / Liter
Dimensi:
Bahagian atas (D1): () mm / () inci
Pangkalan (D2): () mm / () inci
Tinggi (H1): mm / inci
Tinggi (H2): mm / inci
Aplikasi: Tangki simpanan air isi rumah, tangki simpanan air pertanian, tangki simpanan air industri kecil, tangki pengumpulan hujan, atau tangki penyimpanan air lain.
Ciri-ciri: stackable, ringan, tahan lama, bebas karat.
Jaminan produk: 8 tahun luaran & 10 tahun dalaman tertakluk kepada terma & syarat.
Perakuan Penyeraian Pembekal utunk produck-produk kegunaan Industries perkhdimatan air serta SIRIM QAS International produk certification
Catatan 220 Gelen-UK = 1000 seliter = 1m3
D1: Dimensi penutup tangki
D2: Dimensi pangkalan tangki
H1: Ketinggian Tangki atas
H2: Tinggi ke atas Penutup
Semua dimensi dibundarkan hingga 10mm atau 0.5 inci terdekat
Dimensi yang diberikan di atas adalah untuk ruang yang diperlukan untuk tujuan pemasangan sahaja
Sila rujuk kami untuk gambar terkini.
Related Products