Discover the Advantages of Using FRP as an Alternative Material in Structural Profiles
30 Mar 2023
A pedestrian walkway is a path that connects you from one point to another, keeping you dry on rainy days and protected from harsh sun rays. It is designed to provide protection and safety for pedestrians, and safety is definitely the main concern.
In this article, we will discuss the safety hazards when a Mild Steel Walkway needs to be built right next to an electrical station. We will also discuss our first project of implementing a Fiberglass-Reinforced Plastic (FRP) walkway at Taman Jaya LRT station almost a decade ago, which still stands today.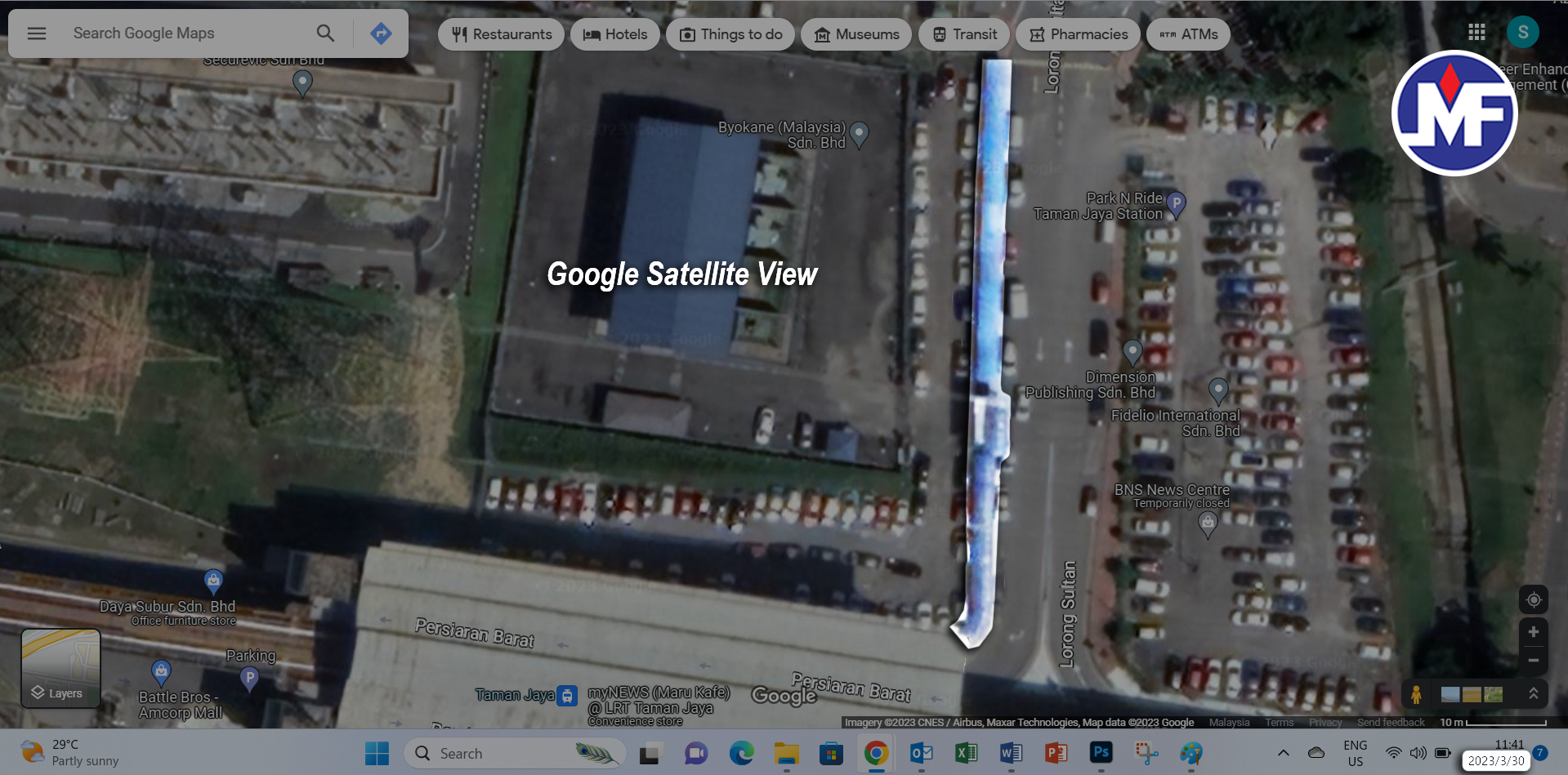 Pedestrian Walkway
When you are walking along the road and a sudden rain shower occurs, your first instinct is to seek shelter. A covered pedestrian walkway provides a big relief for most people in this situation. However, have you ever wondered what material the walkway is made of?
Mild Steel is a commonly used material for walkways due to its strength, durability, and affordability, but there are some downsides to using this material:
Mild steel is prone to rust and corrosion when exposed to moisture or environmental elements such as rain, snow, or salt. Overtime, this can cause the walkway to deteriorate and become unsafe for use.
Mild steel require regular maintenance to prevent rust and corrosion. This includes painting and coating the surface with a protective layer to prevent moisture from seeping in.
Mild steel is heavier than some other materials which can make installation more difficult and expensive.
Mild steel walkways can create electrical hazards if not properly grounded or designed to prevent accidental contact with electrical components in the area.
A steel walkway located beside an electrical station can present several electrical hazards. These hazards can be caused by exposed or improperly grounded electrical components.
The most significant hazard is electric shock, which can occur if someone comes into contact with an exposed live wire or electrical component. In some cases, electric shock can be fatal. Another hazard is arc flash, which occurs when there is an electrical fault or short circuit. This can produce a bright flash of light, intense heat, and pressure waves that can cause burns, hearing loss, and other injuries.
To prevent electrical hazards on a steel walkway located beside an electrical station, several safety measures should be taken. The walkway should be designed and constructed to meet safety standards and regulations, which includes ensuring that the walkway is properly grounded and that all electrical components are covered or shielded to prevent accidental contact. Alternatively, an alternative materials such as Fiberglass-Reinforced Plastic (FRP) could be used to eliminate all the potential safety hazards associated with steel walkways next to electrical station.
Fiberglass-Reinforced Plastic (FRP) Walkway in Taman Jaya LRT Station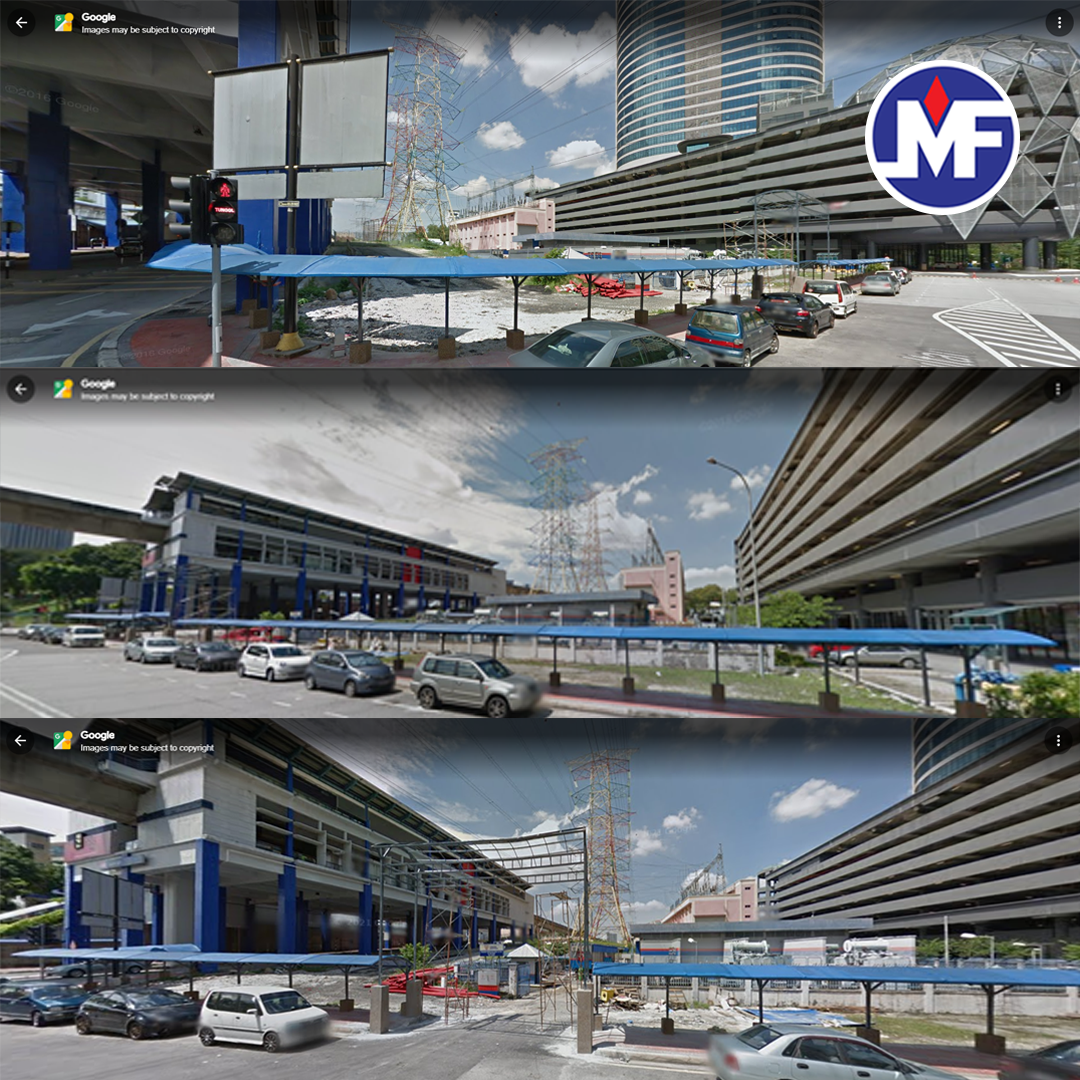 In year 2014, we implemented our first FRP walkway design and project, covering a 140-meter distance walkway along the TNB power substation that connects Taman Jaya Open Car Park to Taman Jaya LRT Station. FRP was selected as an alternative to steel walkway due to the obvious reason of pedestrian safety.
The structure of this FRP walkway was approved by a professional engineer before it was installed on site during civil work. The walkway is composed of Fiberglass Pultruded Structural Profiles, as well as Fiberglass Roofing Solid Sheets. The trusses and purlins were designed using flat bars and square hollow sections, which are lightweight and able to bear a load of 3 meters per support. The walkway roofing was made of FRP solid sheets that come with a gelcoat to protect the appearance of the roofing sheet. Gelcoat is crucial in providing protection to composite products.
This project is a valuable reference and a great success for our business. We look forward to more cooperation opportunities to apply fiberglass design in marine, port, or seaside applications, as well as in areas such as kampong area that were previously built from wood.
We had summarized some of the benefits of FRP for your references
FRP is strong but lightweight. This makes it ideal for use in applications where weight is a concern, such as construction of bridges, walkways, and other structures.
FRP is highly resistant to corrosion, making it ideal for use in harsh environments where traditional materials such as steel would corrode and deteriorate over time. This makes FRP a popular choice for use in marine, chemical processing, and wastewater treatment applications.
FRP is highly durable and can withstand extreme temperatures, UV radiation, and other environmental factors. It is also resistant to impact and abrasion, which makes it ideal for use in structures that are exposed to harsh conditions.
FRP can be molded into virtually any shape or form, allowing for greater design flexibility and customization. This makes it an ideal material for architectural and decorative applications as well as structural ones.
FRP requires little maintenance compared to traditional materials such as steel or concrete. It is also easy to clean and repair, which can help to extend the lifespan or a structure.
FRP composites can be formulated with fire-retardant additives to increase their resistance to fire. These additives work in different ways to slow down the combustion process and reduce the spread of flames.
Overall, the benefits of FRP make it a versatile and cost-effective material for use in a wide range of structural applications.
Talk to us for your project today! WhatsApp or email – sales@muifatt.com.my . We guarantee our expertise to you.
You may visit our product page for more Structural Profile
Disclaimer:-
The information provided on this website does not, and is not intended to, constitute legal advice; instead, all information, content, and materials available on this site are for general informational purposes only. Although we make every effort to keep the information up-to-date and accurate, we makes no representation or warranty, express or implied. Your reliance on such information is strictly at your own risk. This website may contains links to other third-party websites. Such links are only for the convenience of the reader, user or browser; which we do not warrant, recommend, endorse, or assume liability for the contents of the third-party sites.
Keep in touch with us should you keen in receiving timely updates from us
---